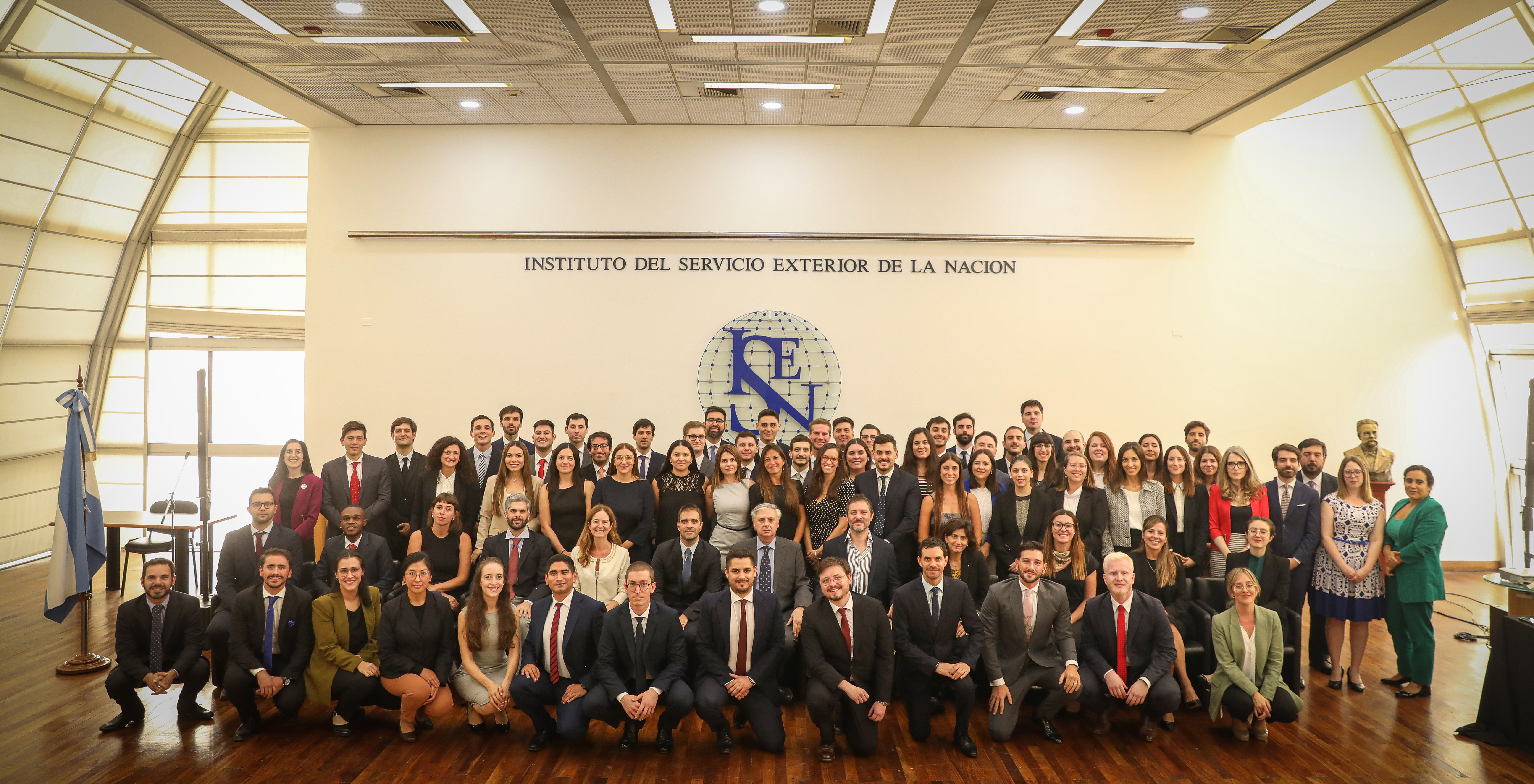 Those who are selected in the contest enter ISEN as candidates for the diplomatic career. Within this framework, they must complete an intensive two-year training course including compulsory training in two languages and a series of professional practices in dependencies of the Ministry.
Those who accomplish all these obligations enter the Diplomatic Career in the rank of third secretary. The training provided by ISEN involves the transmission of relevant knowledge about Argentine foreign relations and professional training in the specific systems and procedures of diplomatic and consular work as well as the transmission of the ethical principles of those who represent Argentina in the world and defend the interests of its citizen's compatriots.
The teaching staff of ISEN is selected taking into account the following criteria: 
The balance between officials of the Foreign Ministry and high-level academics
The diversity of institutions of origin of the academic teachers 
The disciplinary, regional, and generational diversity of the teachers involved 
Gender equality
Within the framework of cooperation with other diplomatic academies, ISEN maintains a student exchange program with the Brazilian diplomatic academy, the Rio Branco Institute, and the Chilean Andrés Bello diplomatic academy.
As a result of these exchanges, Argentine diplomatic officials travel to Brasilia and Santiago de Chile to take courses from the neighboring academies, while their Brazilian and Chilean counterparts come to Buenos Aires to take the ISEN courses.
Additionally, Argentina extends invitations to other diplomatic academies so that selected graduates of these foreign services can join the courses of their institute.
Currently, the following 5 foreign officials are taking the training course given at ISEN:
Sec. Pedro Leonardo Borges de Rezende (Brazil) 
Sec. Ciro de Carvalho Becker Leite (Brazil)
Sec. Liz Lorena Macuchapi Paz (Bolivia)
Sec. Javiera Beatriz Anabalón González (Chile)
Att. Louis Jehu Saint Sauveur (Haiti)
The training course is organized into four types of subjects, which involve different modalities of study and evaluation:
Seminars: subjects taught by permanent teaching teams, which involve reading the bibliography and following presentations, and which are approved by passing one or more exams.
Workshops: subjects in charge of officials, professionals and technical specialists in practical topics, which involve the development of exercises throughout the course, and which are accredited by approving the tasks developed during the course.
Discussions: subjects in charge of various officials, professionals, specialists and referents, which involve monitoring the exhibitions and exchanges, and which are accredited through attendance.
Magisterial conferences: presentations by various officials, professionals and specialists, which involve following what is exposed and exchanged, and which are accredited through attendance.
These subjects are divided, in turn, into five thematic areas of professional training, within which the subjects are organized into a sequence of correlative modules.
The training areas respond to the following objectives:
1. Policy
1.1. Know Argentine foreign policy, its history, its main positions and guidelines, and the various instances of integration and relations with international organizations, as well as the recent development and current affairs of international politics.
1.2. Acquire practical skills to promote the interests of the Argentine Republic in the various bilateral and multilateral instances of intervention.
2. Development
2.1. Know the transformations of contemporary capitalism and the international economy, in general, and the Argentine economic and productive structure as well as its exportable goods and serviced in particular.
2.2. Acquire practical skills to promote work, innovation and Argentine creativity, projecting its cultural and economic potential in the world.
2.3. Know the main trade policy and investment promotion tools, applicable both bilaterally and multilaterally, and the positioning of the Argentine Republic in the economic and trade forums in which it participates.
3. Law
3.1. Know the main laws of the Argentine legal system that are closely related to the essential functions of the SEN, such as those related to international, constitutional, consular and administrative law, among others.
3.2. Acquire practical skills to act under current law in all instances of intervention, promoting in the bilateral and multilateral sphere the full application and respect of international law and human rights as well as the positions and interests of the Argentine Republic and the rights of its citizens.
4. Management
4.1. Know the nature and structure of the Argentine State, at the national and subnational level, understand the dynamics of the administration and public policies in general and in what concerns the Argentine Foreign Ministry in particular, and interact with officials from all jurisdictions.
4.2. Acquire practical skills to design, execute and evaluate public policies, as well as to manage areas and representations.
4.3. Acquire skills to integrate and lead teams, promoting collaborative work, as well as conflict prevention and resolution.
5. Regions
5.1. Know the political and economic news of the various geographic regions and subregions, as well as the history of Argentine foreign relations with them.
5.2. Gain familiarity with the structures and specific tasks of the departments and representations that intervene in the various geographical areas identified.
Class N° 56
ALFONSO, Alejo
AMERI, Carolina Sol
BRIOZZO, Luciano Amador
CABRERA CARRASCO, Hugo Sebastián
CARBONARI, Carlos Nicolás
DE ROSA, Mariano Alberto
ESCUDERO AGUIRRE, Macarena Andrea
FLEGO EIRAS, Marina
GIACONE RODRIGUEZ, Natalia Estefanía
HEIDANOWSKI, Claudio Emanuel
MACHADO RAUBER, Yolanda Isabel
MAGLIANO, Francisco Luis Javier
MEDELA, Ayenien
MURPHY, Patricio Tomás
NACUL, Alan Exequiel
RUIZ BALLESTER, Juan Manuel
SAROKA, Claudio Ariel
TURNER, Bárbara
ZALDIVAR, Agata
ZINGONI VINCI, Nicolás
Class N° 57
AGUIRRE, Fátima Malena Lourdes
ARGAÑARAZ GENRE, María Paula
AZRAK, Adrián Martín
CASTIGLIA, Victoria
CHABAY, Ezequiel Mariano
LOPEZ LAURINO, Carolina Luciana
MARINI, Valentina
MARTINEZ ASCHIERI, Carlos Ezequiel
MATIAK, María Betania
MEDINA, Leila Vanesa
MIGNINI, Luis Guillermo
PADIN, Juan Francisco
QUEIPO RIAVITZ, Anandi
ROSENTHAL, Julián Marcelo
SALVADOR, Camila Mercedes
SASSAROLI, Silveria Andrea
SHQUEITZER, María Florencia
TAPPERO, Facundo
VALDERRAMA, Lucas
VARELA, Daniela Luisina 
Class N° 58
AGUILERA GORRIZ, María Emilia
ALARCÓN, José Yamil
ALONSO, Pablo Agustín
BALBINO, Tomás
BATTISTA, Fabricio Leandro
BENÍTEZ LETO, Rodrigo Nicolás
CAMPOS, Verónica Florencia
CARMINATI WOLL, Antonella
GALLI, Martina
GUISADO LITTERIO, Tomás Mariano
LISSALDE, Marcos Ezequiel
MENA, Federico Andrés
MORENO, Amanda Lucía
PAVLUK, Jimena Irina
PORRETTI CANDIOTI, José Pablo
QUIBAR, Juan Pedro Israel
RESERA, Fabrizio Ariel
RETAMOZO ENRIQUE, Isabel Vanesa
RODRÍGUEZ, Cristian Emanuel
RUBINICH, Greta
RUEDA, Joaquín Evaristo
SAINETI, Sofía Pilar
SAUA, Marian Nahir
SCHANZENBACH, Florencia Nahir
SCHINDER, Ana Laura
SEMÁN, Alejandro Nahuel
SLUPSKI, Matías Iván
SUEIRO, Lucas Ignacio
VILLAGRÁN, Tomás Juan
ZITO LEMA, Camila
 
The curricula is divided into four 4-month periods, during which the training and language courses are taught. Between the different periods, professional practices take place in the different areas of the Foreign Affaires Ministry.
According to the curricula, the courses are distinguished by type, depending on whether they are seminars [SEM], workshops [WRK] or, conference series [CNF], and by thematic area, according to the areas of POLITICS, DEVELOPMENT, LAW, MANAGMENT o REGIONS.